360° Eco-Certified Fashion | Membership Free Shipping
Nordic Swan Ecolabel | GOTS Certified Jeans
Circular Denim | Vegan Brand
INTRODUCING
THE ORGANSK® APPROACH™
Our solution to better denim.
Making denim from the finest raw materials from across the globe, including 100% certified organic premium cotton, recycled cotton and certified recycled fibers - combined with some of the the greenest manufacturing technologies available and promoting circular consumption.

↓
Implementing circular design at all stages of the process, allowing high resource utilization and circular revenue generation. Circular economy is the foundation on which ORGANSK® is built, as well as the cycle under which everything continues to grow.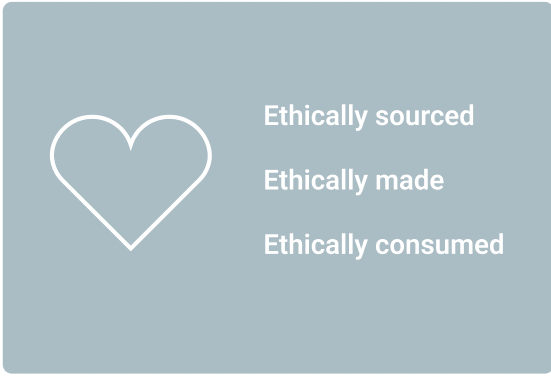 BLUEPRINT
ORGANSK® Approach is THE roadmap for our business. Every product is designed and made according to this approach, using no conventional fibers and no traditional processing techniques.
1. CIRCULAR DESIGN PHASE
The next big thing in design is circular
For us, design is key to the first principle of circular fashion. At ORGANSK®, the approach starts with a pen and paper in Copenhagen, Denmark. A key component to our product design puzzle is adopting circular thinking during the initial design phase, so the product can maximize its circular potential. Our circular business model is sustainable only if value can be economically recovered from the product, and a s such, circular design is crucial to our business model. In this phase, we focus mainly on fibers and designs that can be easily upcycled and recycled.
We strongly believe that Circular thinking is vital in the product design phase. It must begin from the very beginning so that the product can be developed to reach its full circular potential.
↓
Our circular design phase encompasses 3 strategies
All dependent on the success of each other:
✓ Longevity
Designed for longevity using low impact materials and innovative technologies backed up by hard data and lab testing.
Result: High-value products
✓ Retain
Scalable sharing and take-back schemes. Keeping the products in the circle.
Result: Easy to access and easy to process. Closing the loop.
✓ Design for recycling
Designing products and implementing manufacturing processes without use of hazardous components to maximize recoverability of the materials involved.
Result: Easily recoverable. Ending the waste.
We work towards a more sustainable future, which requires new thinking about materials, business models, design approaches, customer insight and aesthetics.
Contrary to linear design, we aim to radically minimize the extraction of raw materials and the generation of waste. We do this by recovering and reusing as many products and materials as possible, in a systemic way, over and over again.
At ORGANSK, we don't use vague promises and statements without Hard-Data. Genuinely green products and services back up their claims with facts and details.
Hard Data
Our design process:
✓ Shortening times by going modular which reduces waste and carbon output.

✓ Sourcing raw materials from ethical suppliers: Opting solely for certified natural fibres that are renewable and a growing percentage of recycled fabrics.

✓ Ethical production: Design aimed at certified eco-conscious and socially responsible production processes overseen by stringent third-party accreditation bodies. Actively working with suppliers to improve, namely tackling inefficiencies and switching to 100% renewable energy.

✓ The quality of garments: Designed for longevity using low-impact materials. Aimed to pass stringent quality tests by third-party accreditation bodies to ensure absolute quality.

✓ Circular consumption: Aimed at scalable sharing. Take back schemes as the core of the business for clothes to be reused, upcycled and recycled.

✓ Closing the loop and disrupting what has come to be considered a wasteful industry.
2. RAW MATERIALS
Traceable. Natural & Certified organic to the highest standard.
We solely use certified fibers and materials to ensure that our actions lead to meaningful change, including 100% certified organic premium cotton, recycled cotton and certified recycled polyester. Our cotton uses less water (fresh surface water or groundwater sources) than conventional cotton.
Our organic cotton is farmed without the use of agricultural chemicals, such as pesticides, which are known to reduce soil quality, contribute to water pollution and seriously affect the health of farmers.
Promotes safety and better livelihoods
Cultivation of organic cotton is safe for farmers and their families. They are not exposed to toxic chemicals in the field or through their food and water supply. It also means that farmers grow more than one crop which supplements their food and income.
Natural
Handpicked
Soft
Reduces the environmental footprint
Organic cotton is grown without harmful chemicals. This leaves the air, soil and water free from contaminates that cause harm. It emits half the CO2 as compared to conventional cotton production - uses up to 62% less energy and less water to grow since organic cotton farmers typically utilize rain far more than irrigation.
Much of today's organic cultivation takes place in areas where rainwater is the main water source, something that reduces the problems associated with water consumption.
How is our cotton better?Globally, conventional cotton farming uses more pesticides per acre than any other crop. Such chemicals rob the land of crucial nutrients, contaminate water supplies and harm human health.

✓ Healthier Soil
Organic farming uses crop rotation, cover crops, and organic fertilizers instead of toxic pesticides.

✓ Clean Water For Everyone
Groundwater, streams, and rivers are not poisoned by pesticides.

✓ Safer For People
By replacing dangerous chemicals with natural alternatives and old-fashioned methods, farmers and consumers are spared dangerous levels of exposure.
3. FABRIC MAKING + ACCESSORIES
Cotton to thread - Thread to fabric
We use Nordic Swan Ecolabel, EU Ecolabel and GOTS-certified textile fabrics which ensure:

✓ Efficient and long-lasting fabrics.
✓ Strict environmental requirements.
✓ Strict requirements for chemicals for the benefit of the environment and our health.
✓ 100% transparent production.
The manufacturing process of our fabrics uses minimal resources, and meets stringent environmental and health requirements for any chemicals used. The process is substantiated with facts, hard data and third-party accreditation bodies.
Fabric made by Isko
ISKO Earth Fit™ is a denim fabric collection forming an integral part of ISKO's responsible innovation strategy. ISKO Earth Fit™ has been awarded with the prestigious Nordic Swan Ecolabel and EU Ecolabel. GOTS certified organic cotton and certified recycled cotton is used to make fabrics for ORGANSK.
Fabric made by Calik
Calik Denim has been awarded with GOTS for organic fabrics made for ORGANSK, using certified organic cotton harvested from Sanliurfa, Turkey. All our GOTS certified jeans are made from these fabrics.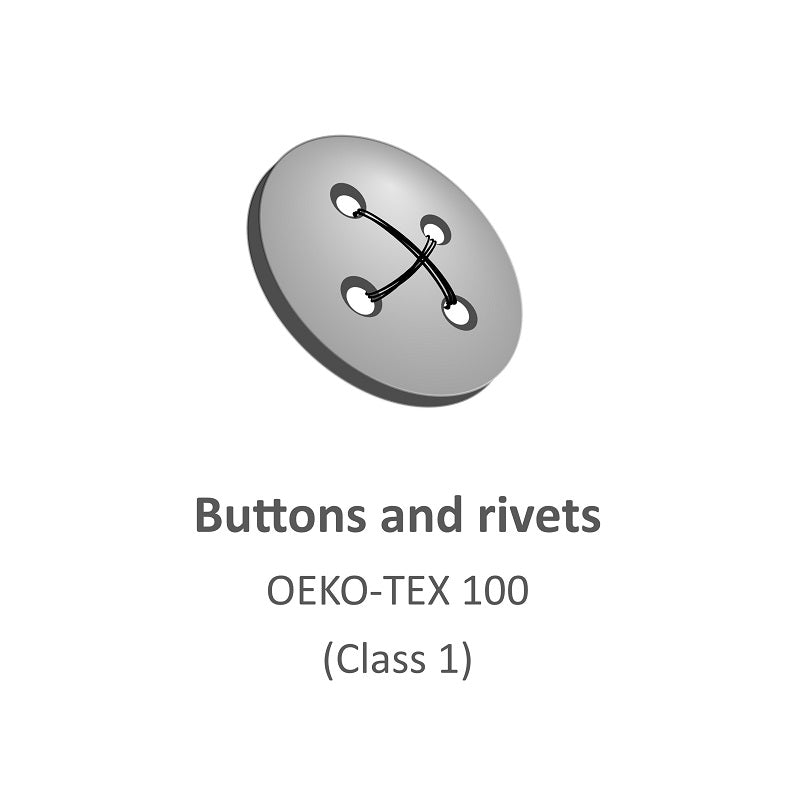 A supply chain that is 100% traceable
Every single component in our jeans is certified and 100% traceable, and this includes accessories.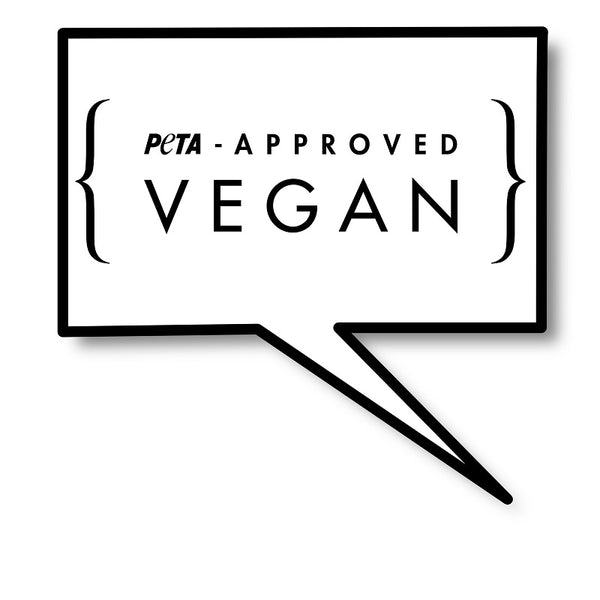 Vegan jacron patch
FSC & OEKO-TEX 100 (Class 1) certified.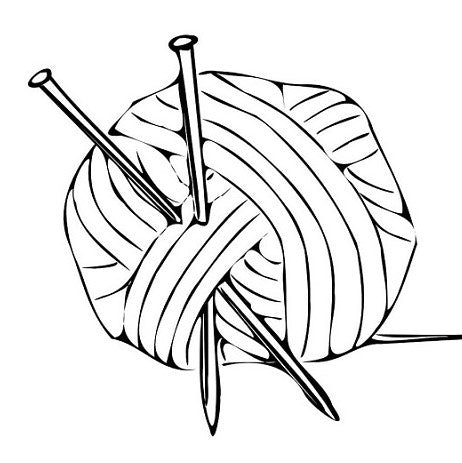 EcoVerde thread
Made of recycled polyester. OEKO-TEX 100 (Class 1) & GRS certified.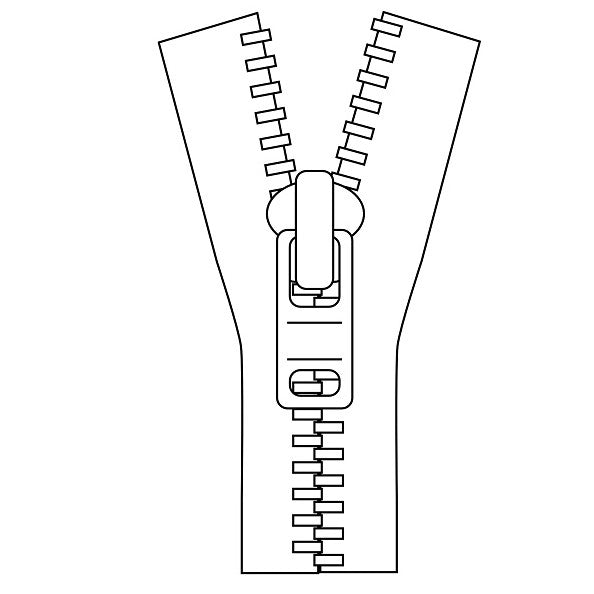 Recycled zipper
Mechanically recycled. OEKO-TEX 100 (Class 1).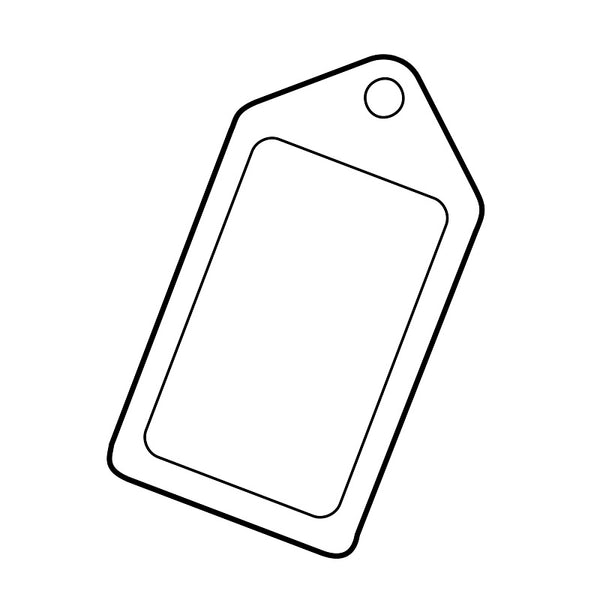 Labels and tags
OEKO-TEX 100 (Class 1) Biodegradable & recycled materials.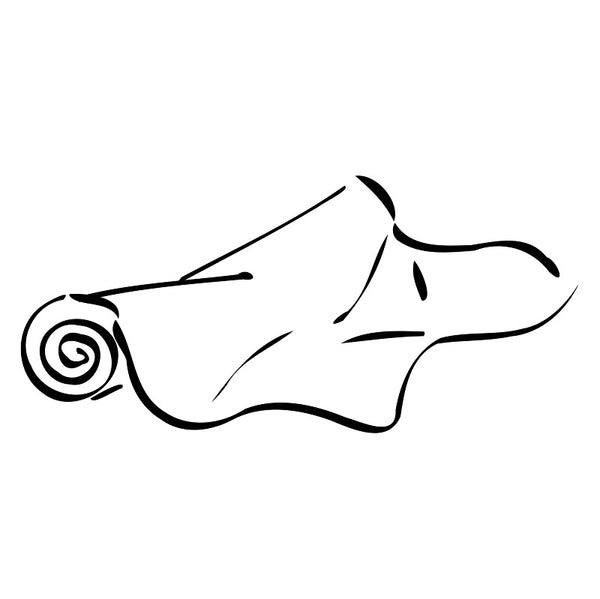 Pocket lining
OEKO-TEX 100 & OCS certified.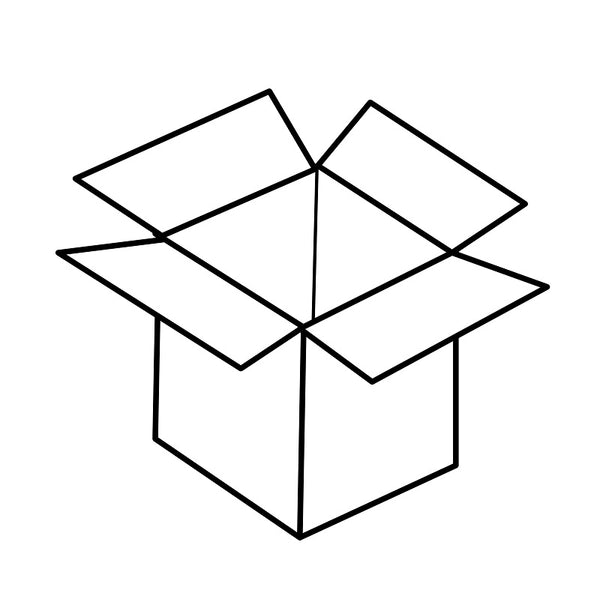 Packaging
Biodegradable & recycled materials.
4. JEANS MAKING: JEANS TO LIVE FOR
The wet processes (bleaching, dyeing, finishing) in textile production often contribute significantly to environmental pollution, while low wages, child and slave labor keep garment workers in a cycle of poverty. Additionally, textile wet processes frequently cause significant environ-mental damage. In addition to consuming large amounts of water and chemicals, wet processes can also be energy intensive.

In contrast to conventional production, our jeans are made in GOTS certified factories and processed with low-impact denim manufacturing techniques, or as we call it:

GREENER MAKING

✔ Eco-friendly laser techniques to create textured patterns.
✔ Cutting-edge washing techniques like Ozone and Nannobuble technologies with minimal water waste and less energy.
✔ Organic cotton and recycled fibers.
✔ Considers the health of workers and consumers.
✔ Free of toxic chemicals that can harm you or our eco system.
✔ Free of any animal products.
✔ Cut, sewed and washed at GOTS certified factories.

Technologies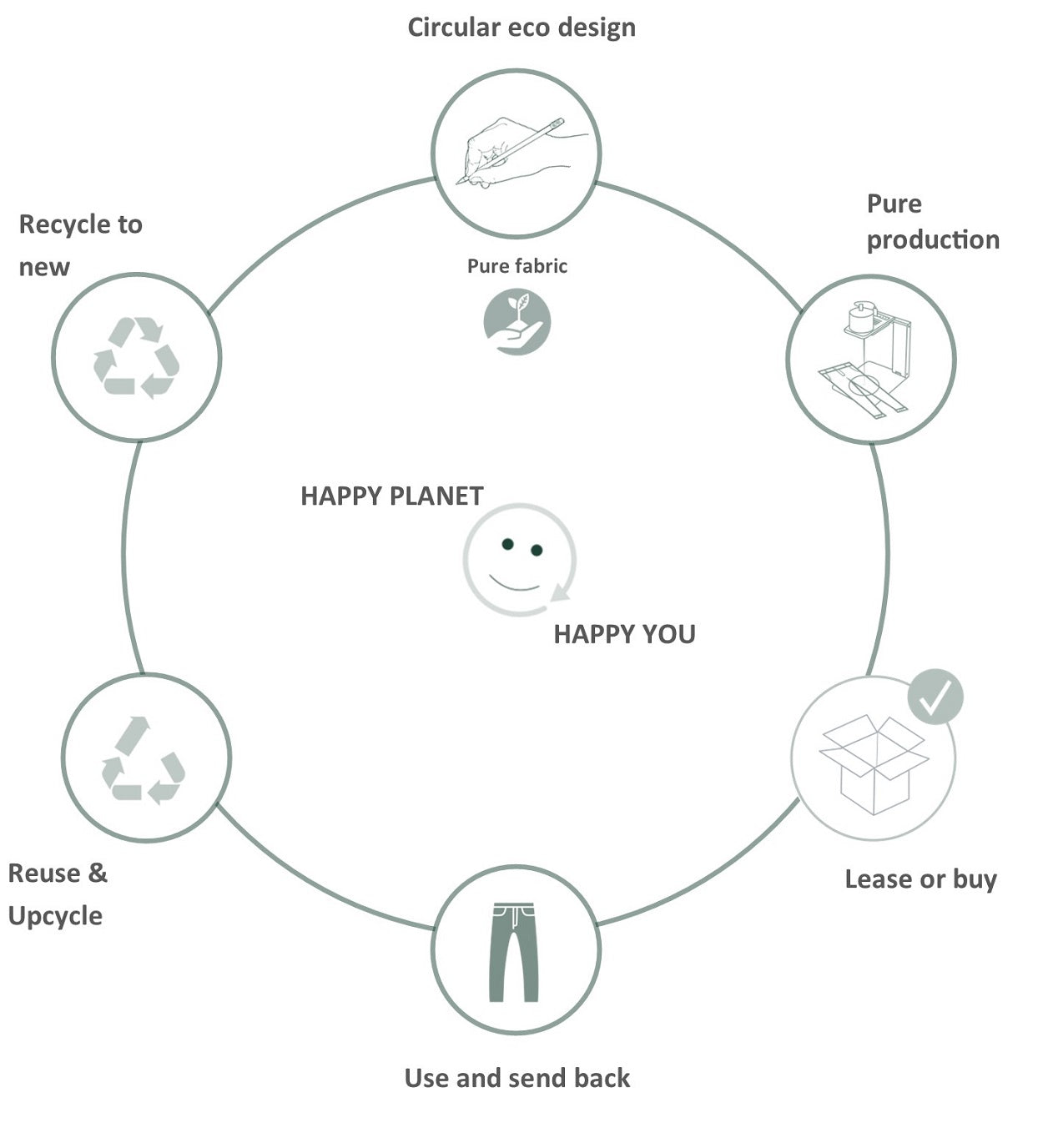 5. Promoting Circular Consumption
Offering subscription-based plans with tiered pricing models in addition to flat-rate pricing and take-back schemes.

Get denim you like - wear them for as long as you like - swap them whenever you want.

At ORGANSK®, every jeans becomes a new jeans. With this final but never ending step, we aim to close the loop.
Explore
Step 2

Choose any jeans and enjoy as long as you want.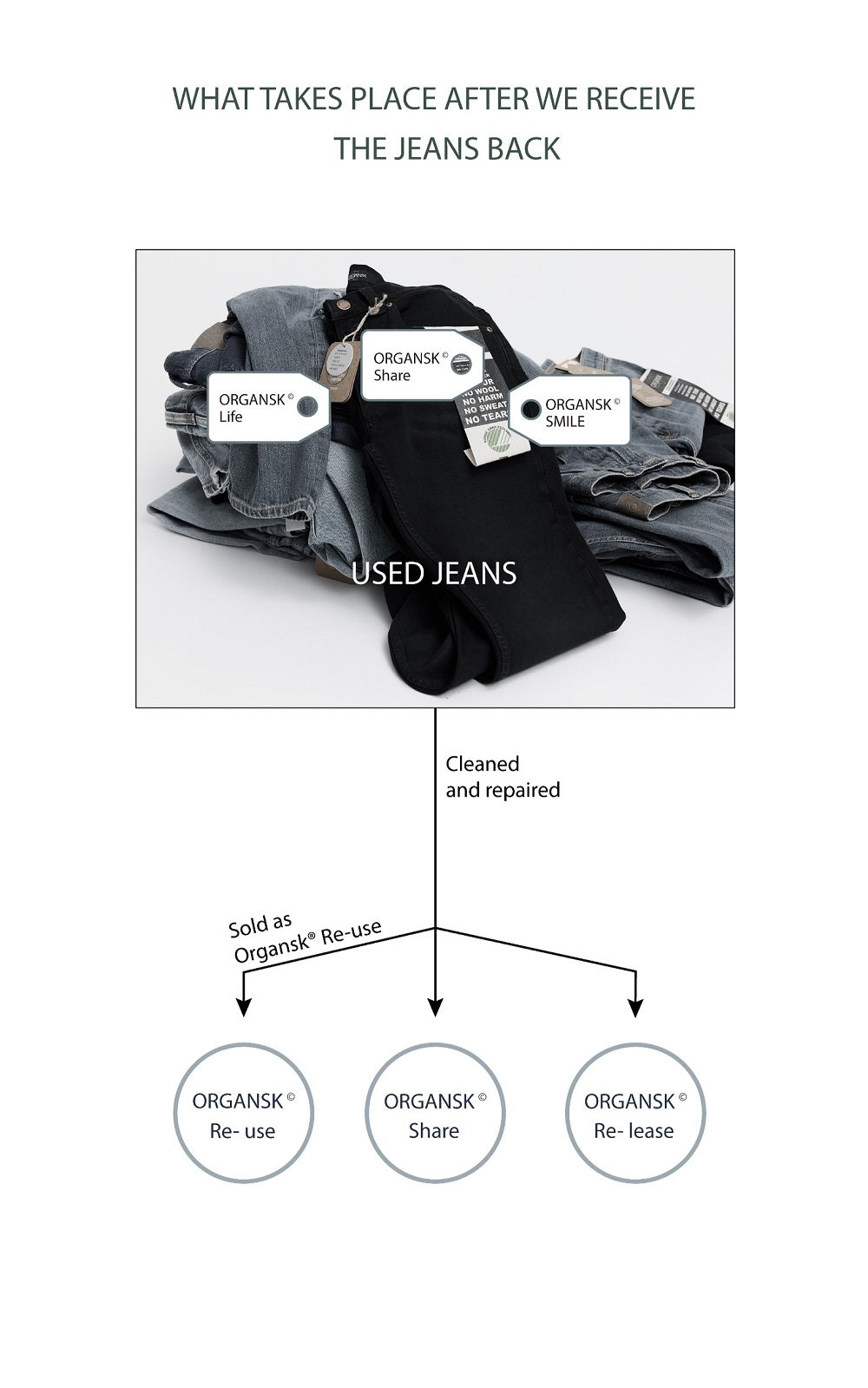 REDUCE, REUSE, RECYCLE
ORGANSK® Re-lease
Organsk® jeans that are returned after use are passed on to new users via our ORGANSK® Re-lease model. Organsk®Re-lease is a subscription-based leasing model, offering customers used jeans for a reduced monthly fee.

ORGANSK®Reuse
Our upcycling concept is quite simple: we do not believe "ORGANSK® jeans" and "throwaway" are words that belong together. We know that by taking proper care of our denim, you will not only do the planet a favor, but you will also get an exclusive piece of clothing.

ORGANSK® Recover
Jeans that are not suitable for re-use are sent back to our textile factory for recycling. We take the old jeans and recycle them into fiber that can be converted into new yarn.

Our goals
Achieve 100% circularity.
Increase the use of recycled materials and embrace innovative solutions to further improve the quality and durability of jeans.
Promote ethical consumption and work towards 100% circular fashion.