360° Eco-Certified Fashion | Membership Free Shipping
Nordic Swan Ecolabel | GOTS Certified Jeans
Circular Denim | Vegan Brand
Atmosphere™ Midnight Blues
Regular price
$190.00 USD
Regular price
Sale price
$190.00 USD
Unit price
/
per
Sale
Sold out
NORDIC SWAN ECOLABEL | VEGAN
Create an account for exclusive rewards.

✓ Free shipping with membership.
✓ Earn smileys and redeem.
Memberships

Become an exclusive organsk® member.

It's cool to go circular


Select any plan that you want. You get access to your personal customer panel where you can track all plans and payments.

✓ Buy less & buy better.
✓ Ethically sourced & ethically made.
✓ Earn smileys and redeem.
✓ Enjoy free shipping.
✓ Subscribe and swap.

  
The model is 184 cm tall and wearing size 31/30
Happy planet ☻ Happy you
How, where and by whom am I made?
Water and climate

Cotton harvest: Atmosphere is made of certified organic cotton and recycled fibers, which uses less water and less energy than conventional cotton. Our organic cotton is grown without harmful chemicals. This leaves the air, soil and water free from contaminates that cause harm. It emits up to half the CO2 as compared to conventional cotton production - uses up to 62% less energy and less water to grow since organic cotton farmers typically utilize rain far more than irrigation.

Water & energy use from cotton to fabric: We use only 14.95 liters to make this fabric and 1.27 kg carbon emissions which is nearly 2.2 kWh of electricity use.

Water & energy use from fabric to finish: We are still mapping out this data.
Shipping and returns

Any return claim must be submitted within 14 days following the delivery of the product(s). The product(s) must be unused and sent in their original condition (packaging, card, etc).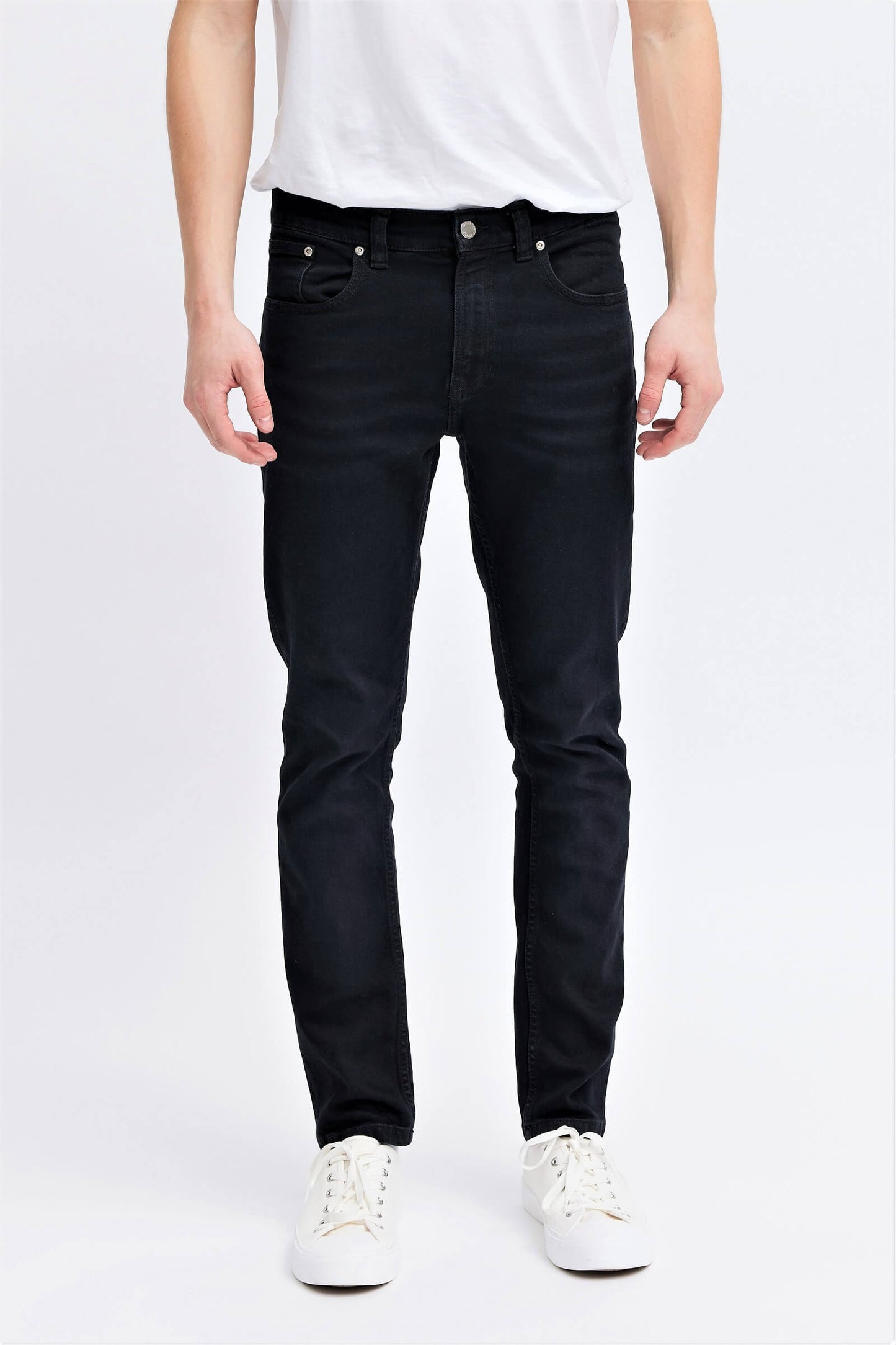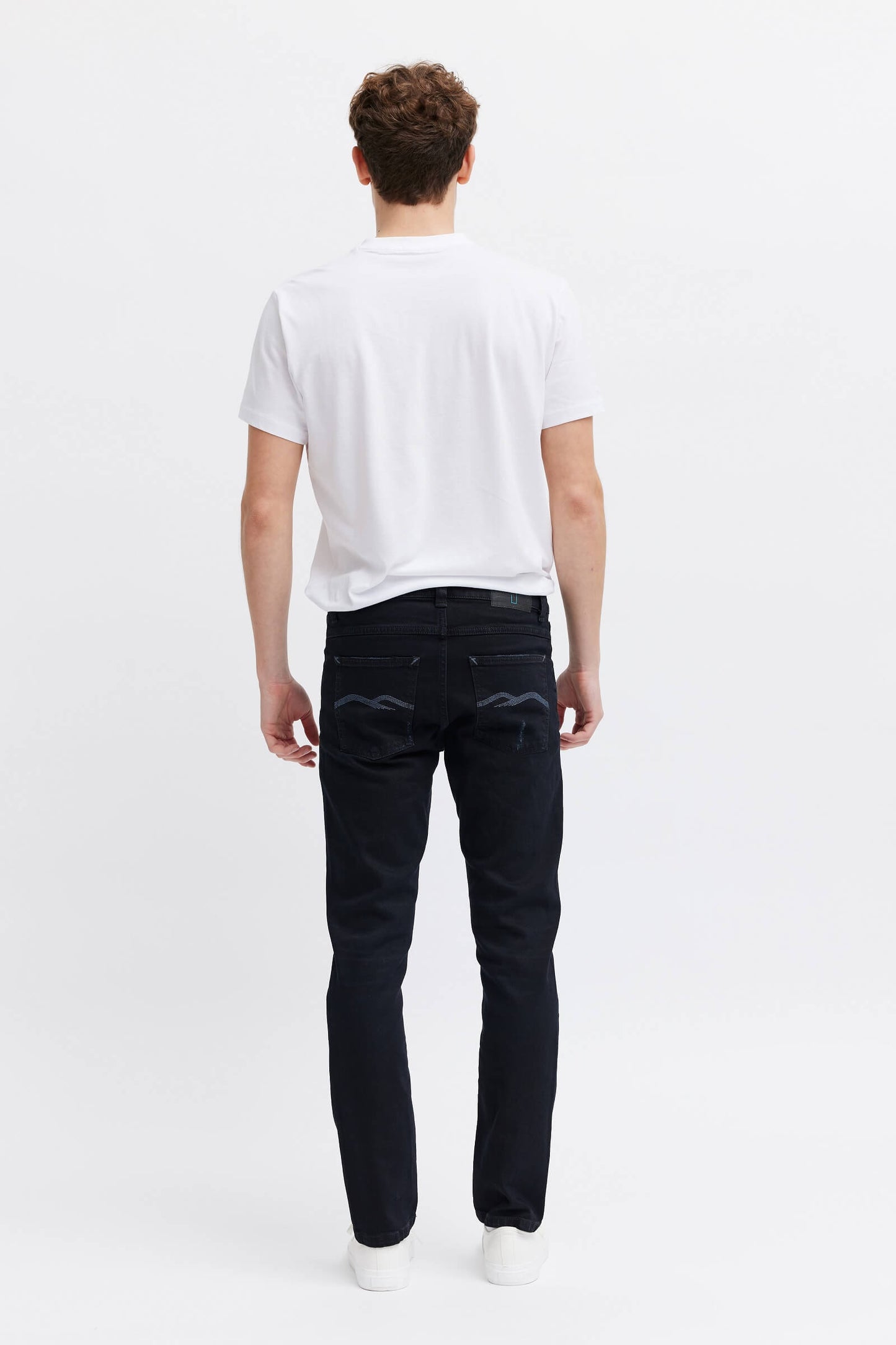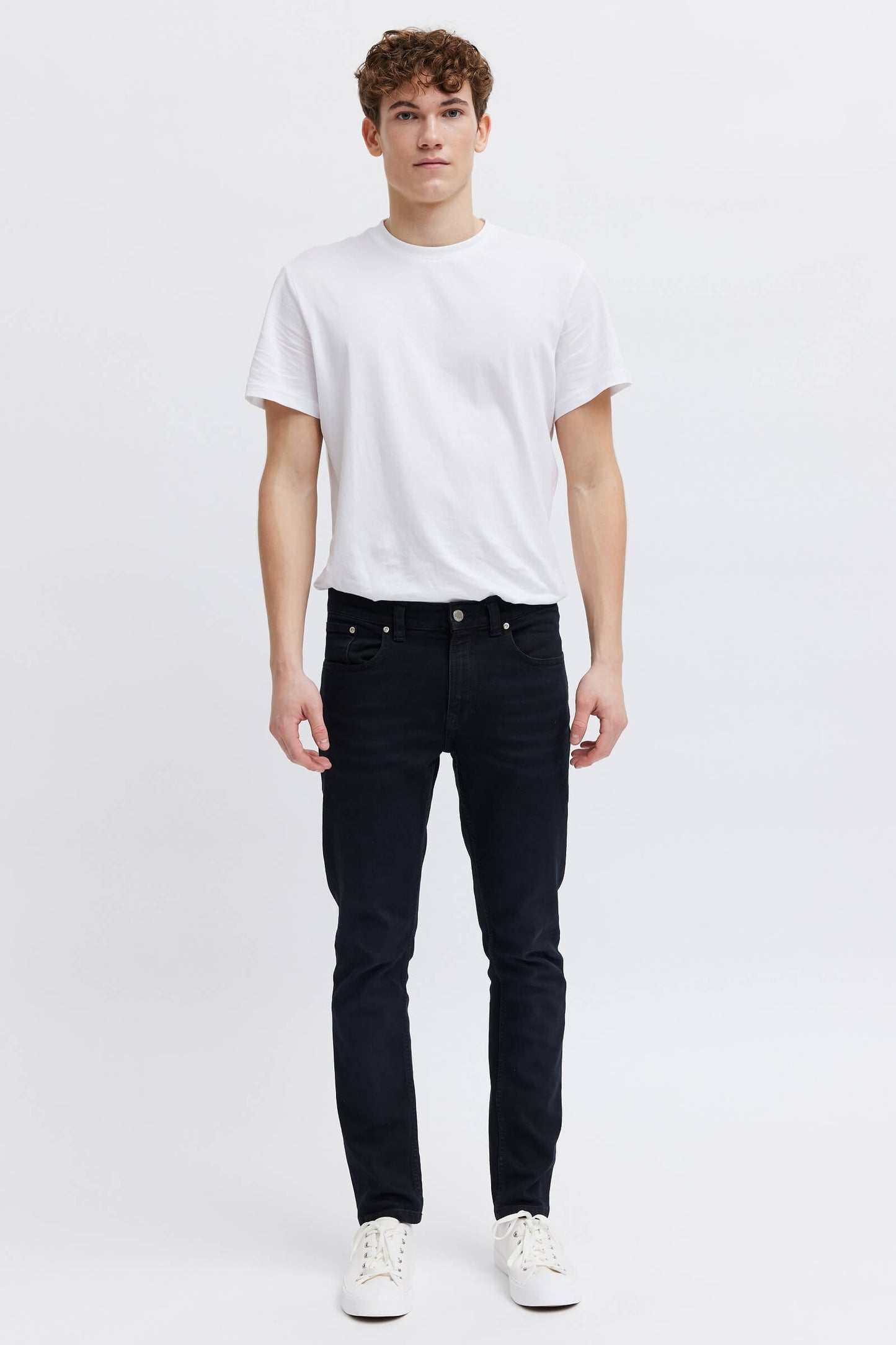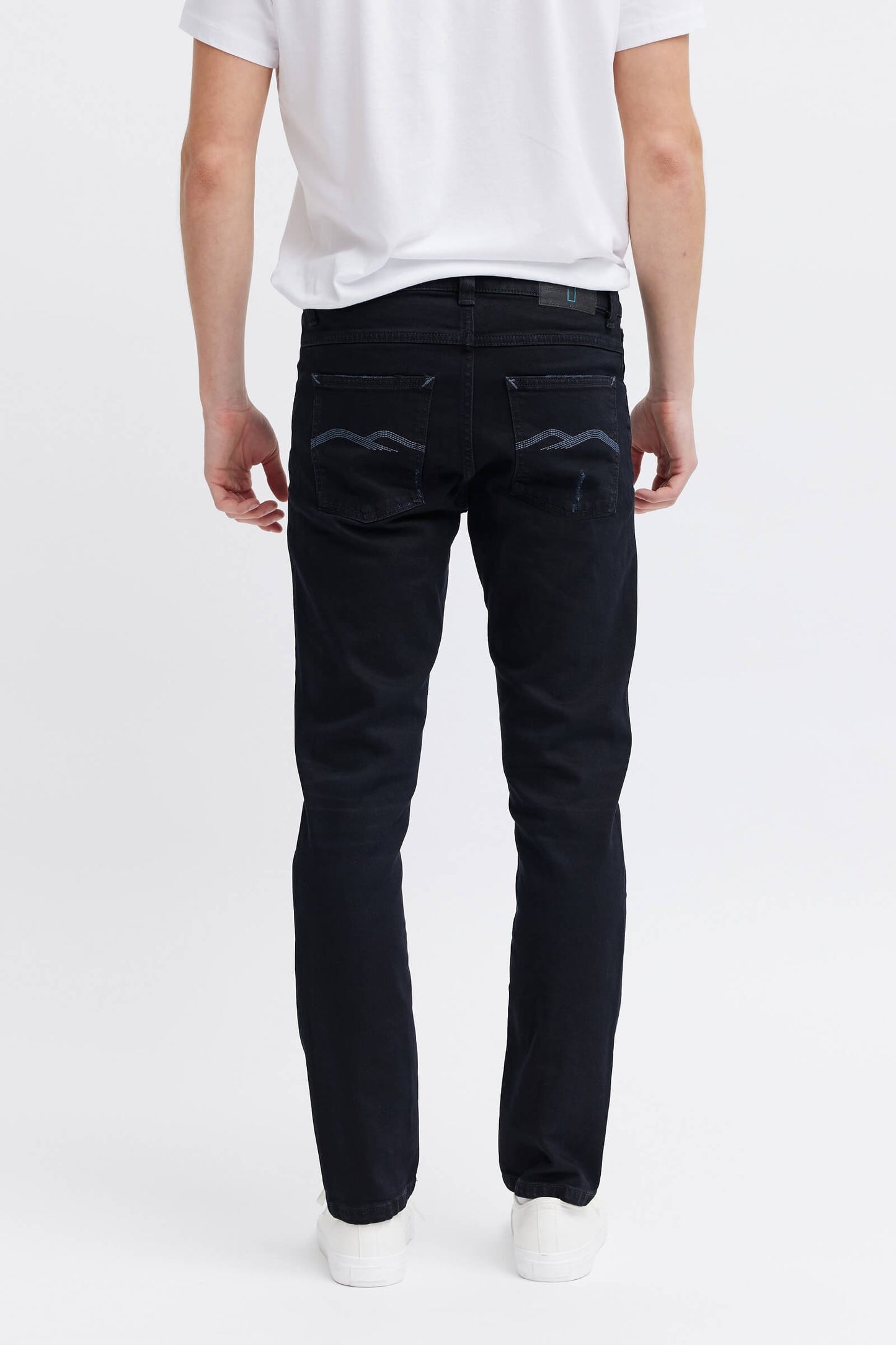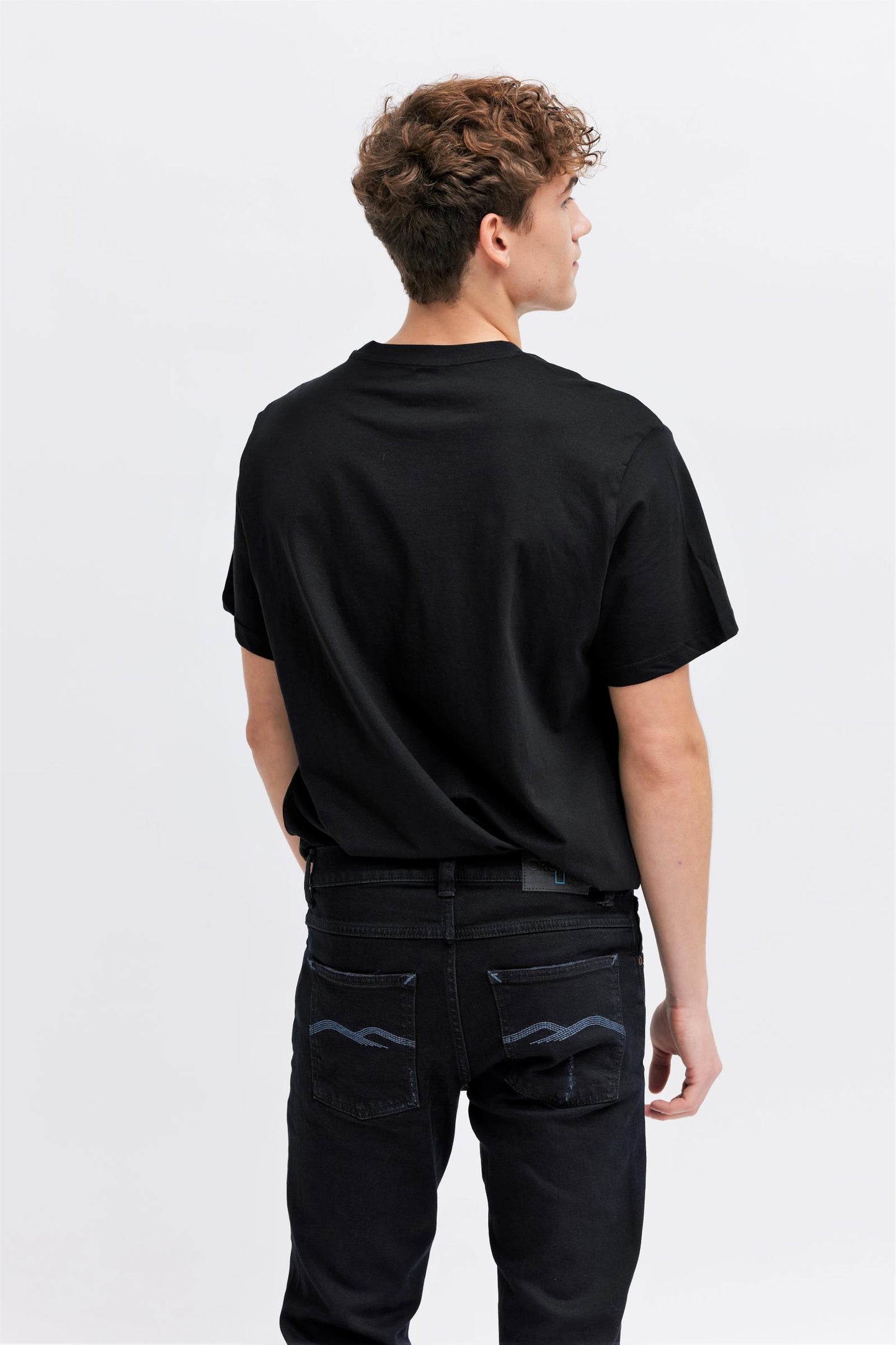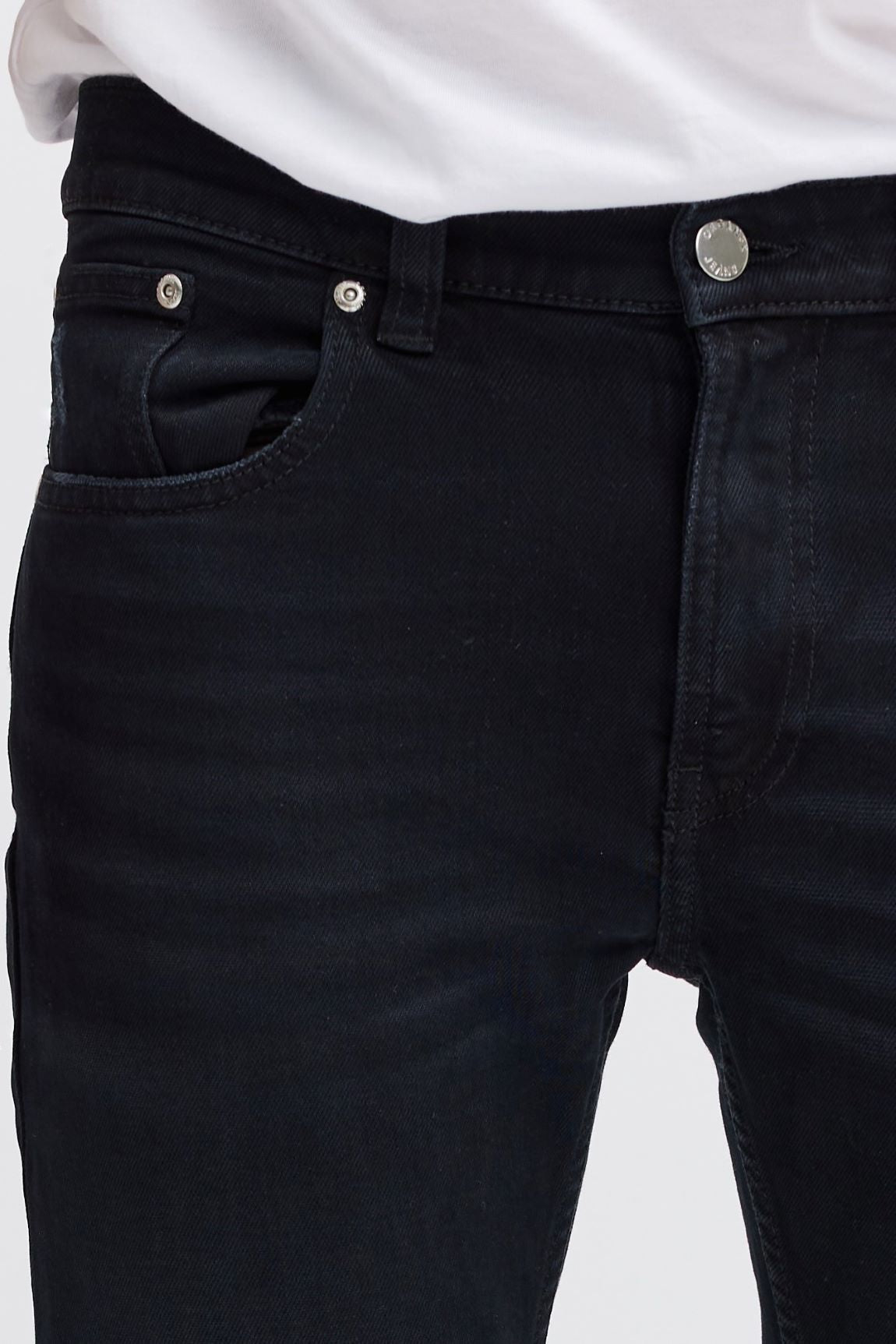 Who am I?
Hi, I am Atmosphere Midnight Blues
A true art of style, comfort and harmony
Atmosphere Midnight Blues is our classic slim fit pair of jeans with a mid-waist, zip fly and fits slim from the hip down to the ankle. It is tapered through the leg for a slim leg opening but with more room around the thighs. Made of premium quality comfort denim with signature blue stitch details, it is made for men seeking a stylish and tailored look, suitable for any occasion.

Atmosphere is the true art of denim and is a tribute to craftsmanship with great attention to detail. It is a black versatile denim fit featuring a comfortable silhouette, made of organic cotton and mixed with a hint of recycled polyester and stretch. It is lightly treated with laser, achieving natural blue'ish faded effects complimenting the black denim fabric. Contrast back pocket embroidery and a patch with blue detail add the final touches. It is a harmonious and stylish garment from top to bottom, with just enough edge to it, to stand out from the rest.

The details, the fit and most importantly the comfy denim pays homage to style and heritage of craft. It is a a natural fit for both semi-formal, formal and informal occasions.

• Atmosphere Midnight Blues is certified by the Nordic Swan Ecolabel from cradle to cradle.
• Peta Approved Vegan.
• Comfort denim.

Standout: Authentically stylish and naturally comfortable.
Collapsible content
Fit

• Mid waist

• Slim fit

• Slim leg

• Slim leg opening
Details

• Black thread on seams.

• Blue signature back pocket embroidery.

• Black Vegan Jacron patch with blue detail.

• Silver trims.

• Zip fly Natulon®.

• Dry black denim color.
Materials

• Organic Cotton (GOTS Certified)

• Recycled Polyester (GRS Certified)

• 13.5 oz. Comfort Denim Fabric (Nordic SWAN Ecolabel & EU Ecolabel Certified)

• Silver Trims (OEKO-TEX Class 1)

• Recycled Eco-Verde thread (OEKO-TEX Class 1 & GRS)

• Mechanically recycled zip fly Natulon® (OEKO-TEX Class 1 & GRS)

• Jacron patch (Vegan, OEKO-TEX Class 1 & FSC)

   

Made of 94.98% Certified Organic Cotton, 3.88% Certified Recycled Polyester and 1.14 % Elastane

   

Designed in Denmark

Made in Turkey
Design

Designed for the conscious man seeking a stylish and tailored look.

• It's got to feel right: Natural high-quality materials.

• It's got to look good: Well-thought-out design

• Fit is key: Superb fit and comfort.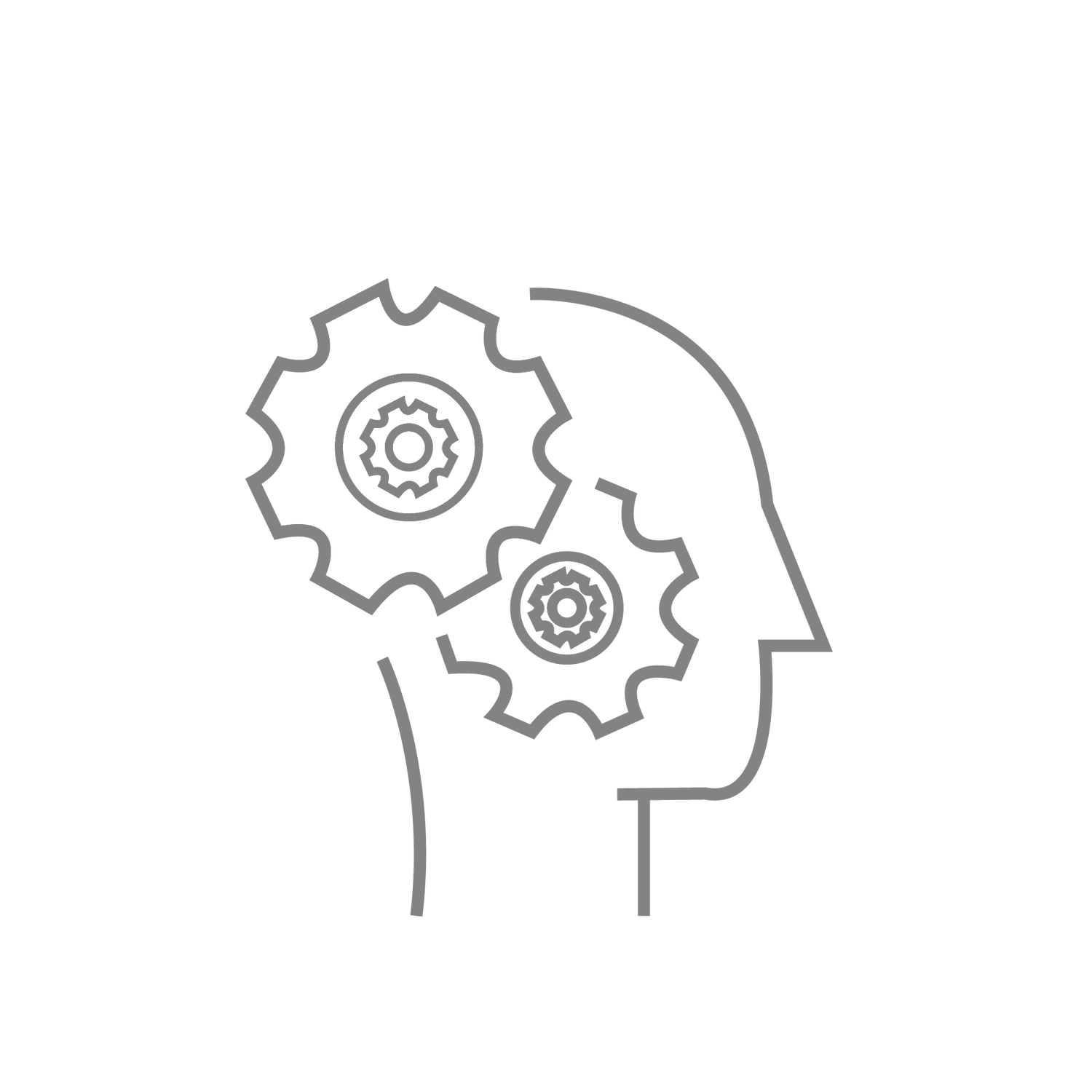 Why me?
I am the signature slim fit. I am both stylish and casual, edgy as well as being incredibly versatile. Featuring a wearable style for just about any occasion and in any situation, you might find yourself in. It doesn't get more elegant than that.

Don't be afraid to let me be an extension of your personality.

My blueprint is constant: I look rugged like a true denim garment should look, but I am comfortable with just the right amount of stretch without sacrificing the authentic denim feel and durability. I am classy with just the right amount of edgy details to stand out from the rest.

I am Atmosphere Midnight Blues. I reign supreme, when it comes to design, comfort and style.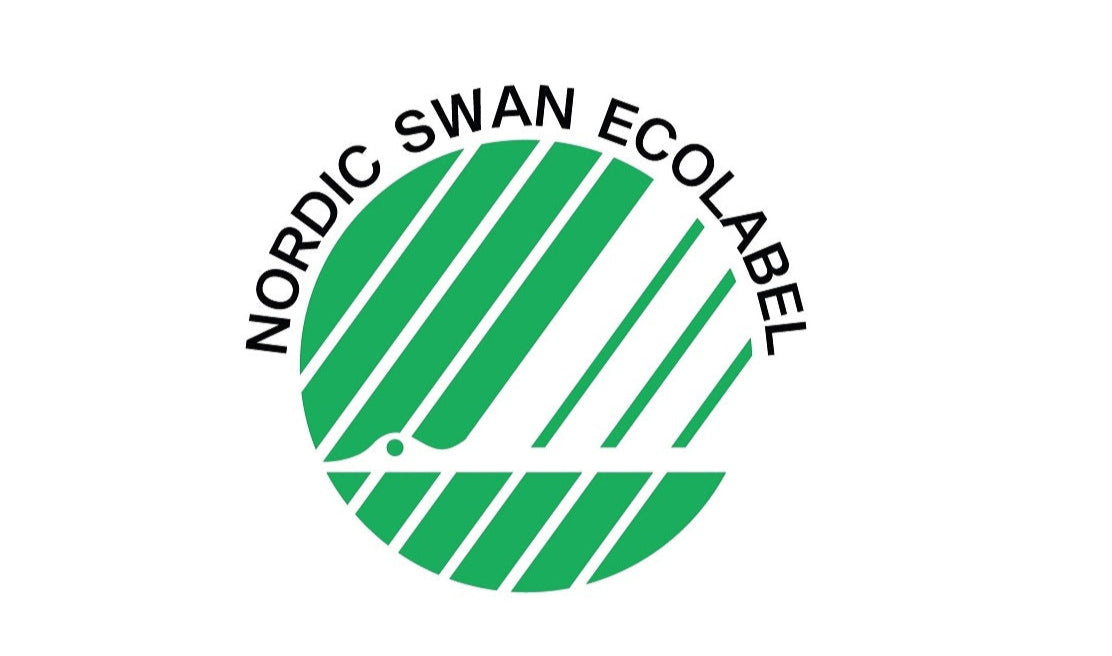 NORDIC SWAN ECOLABEL CERTIFIED
This product is certified by the NORDIC SWAN ECOLABEL, the official ecolabel of the Nordic countries.

Products certified with the Nordic Swan Ecolabel contribute to a reduced climate impact, transparent supply chain and are safe for us and better for the planet.

How, where and by
whom am I made?
I am made with laser

The most environmentally friendly way to create character and pattern on your jeans.


This product is made with laser for added texture. By utilizing laser technology, we eliminate the need for water-intensive washing and heavy chemical applications.

I am made with low-impact materials

Made with GOTS certified organic cotton and recycled polyester.


I am made with certified accessories

A supply chain that is 100% traceable.

Every single component in this product is certified and 100% traceable. This includes accessories, from pocket lining and vegan patch to trims and threads.


I am made with safer chemistry

We exclusively use GOTS, the Nordic Swan Ecolabel, and Standard 100 OEKO-TEX (R) - certified chemicals.


I am made with opportunity

I am a high-quality denim product designed to last. From carefully selected premium materials to design, style, and quality stitches, I support a more sustainable design.

My journey
Follow my journey from cradle to gate

Made of natural and recycled materials to be re-used and recycled.